Campaign Competitors
Since the debut of AdvertServe it has been possible to set an advertisers campaigns to compete with each other. You simply checked the Self Compete option in the advertisers competitor settings and none of their campaigns would show on a page at the same time. Nice and easy, yes, but this failed to handle situations where you might not want all of an advertisers campaigns to compete with each other.
The only way you were able to deal with such situations was to break the campaign out into a secondary advertiser account so you could make the two accounts compete with each other, but that was never an ideal workaround because it split the advertisers reports between two accounts.
By introducing campaign-level competitors, you now have a much more effective way to deal with such situations when they arise.
How It Works
Setting up campaign-level competitors is very easy. As you might expect, they can be set when creating or editing a campaign. We simply give you a list of the advertisers other campaigns to select as competitors as you can see in the following screen shot.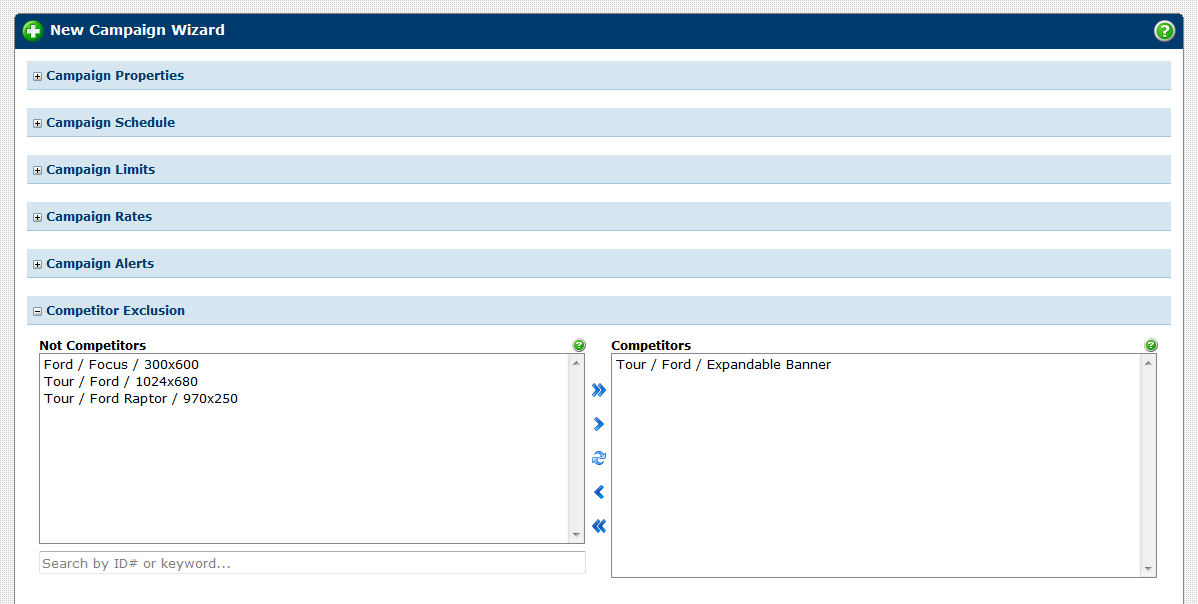 So, here, I am creating a new campaign that I do not want to run on the same page as Ford's expandable banner campaign.
Final Thoughts
One thing to be aware of is that having the Self Compete option checked at the advertiser-level will effectively override the campaign-level competitors. The control panel will give you a warning about that though. This allows you to seamlessly switch from advertiser-level competitors to campaign-level competitors. Simply set up your campaign-level competitors and then go back and remove the Self Compete option from the advertiser account.