We are pleased to announce that the AdvertServe Q1/2015 update has been deployed!
Stay tuned to our blog for the next few days as we'll be releasing new tutorials on here as fast as we can write them to get you up to speed with the new features.
A/B Testing and Optimization
Savvy advertisers know that getting the right message in front of customers is key to success. To that end, you create multiple versions of banners with different calls to action. Then you wait and manually adjust to show the better performing one more often. Sometimes that then leads to creative burnout so often times multiple adjustments are needed. This tedious but important process can now be automated with A/B testing, so you can literally just set it and forget it! Learn more...
Improved Campaign Assignments
One thing that's always drove us nuts when looking at the campaign assignments for a zone to optimize their chain/priority is that it would include future campaigns that hadn't started yet. To solve that problem, we are now breaking those campaigns out into a separate Upcoming Campaigns list to complement the existing Active Campaigns and Inactive Campaigns list.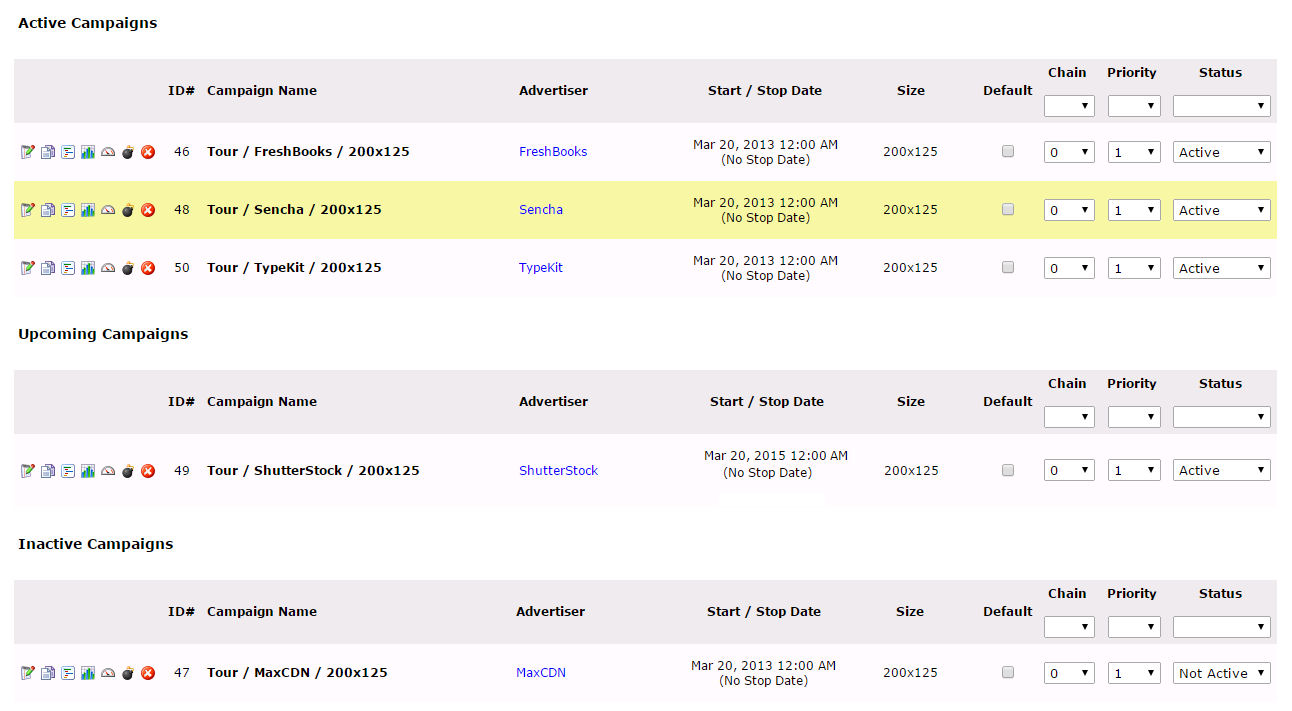 Revision/Blame Tracking
Nobody likes to get blamed for making an incorrect change to a campaign that they didn't make. Now, you can prove that it wasn't you! We're now tracking changes to user accounts, campaigns, media, groups, zones and more so you can view previous revisions of them and see who changed them. To see this in action, just edit an item and then click the View Change History link that appears in the shortcuts at the top right side of the page. Learn more...
Campaign Renewal Reminders
Do you ever send reminders to your advertisers asking them to renew their campaigns? Then, boy, do we have good news for you. Campaign renewal reminders can now be e-mailed to advertisers on a schedule with up to 5 attempts being made to encourage them to renew their campaigns. Reminders may be sent up to 14 days before or 90 days after a campaign expires and can be disabled at any time on a per campaign basis. You can also attach a file to the reminder e-mails, so you can include your rate card or media kit. Learn more...
Google Analytics Linking
We've implemented support for Google Analytics Linking. This allows you to define a custom Traffic Source and Medium in your advertisers account settings. As a result, your advertisers will be able to more easily identify referral traffic from their banners if they use Google Analytics as their primary means of tracking. Learn more...
Pass-Through Variables
We've added support for Pass-Through Variables to the Code Wizard, which enables you to pass publisher-side variables into creatives, redirects or third-party tags by using custom macros that share the same name.
Better E-mail Support
When sending e-mails, AdvertServe now tries to connect to POP3 and SMTP using the standard ports 110 and 25 but if that fails it will automatically try using ports 465, 587 or 995 with SSL/TLS which is a complicated way of saying that we finally support secure e-mail authentication.
Multiple Account Contacts
With all of our fancy e-mail features we thought it would be swell if we gave you the option to add up to 5 additional e-mail contacts to each of your advertiser and publisher accounts.
Modern HTML Output
Some folks have been wondering if we'd ever update the ad server to output modern HTML or if we'd leave it using HTML4 into eternity. Well, you can stop wondering. The ad server is now outputting modern HTML with CSS and gone are the deprecated HTML4 attributes of days past. May they rest in peace!
Questions?
We'd love to hear from you. Seriously, don't hesitate to contact support if you have questions about any of the new features and improvements.