Supported Formats
AdvertServe allows you to upload video files up to 200 MB in size in any of the following formats:
3GP
F4V
M4V
MOV
MP4
MPG
WMV
Video Encoding and Output
Videos are automatically encoded using the H.264 main profile and will be output at up to 720p HD resolution with double-pass rendering for optimal quality and playback speed. All of the above video formats will also be transcoded to MP4 format. This is the optimal choice for the web because MP4 is supported by all browsers with HTML5 video capability.
CDN Pricing
When you upload videos to AdvertServe they are automatically deployed to our premium CDN. This ensures that your videos will play smoothly for visitors throughout North America, Europe, South America, Asia and Oceania. Just as we bill you for served impressions each month you will be billed an additional fee for your video bandwidth usage. Pricing is $0.03/GB for North America & Europe and $0.07/GB for South America, Asia & Oceania. There is no minimum commitment so you pay only for your actual video bandwidth usage.
Uploading Video
Upload your video file is a very simple process as it can be done from within your AdvertServe control panel.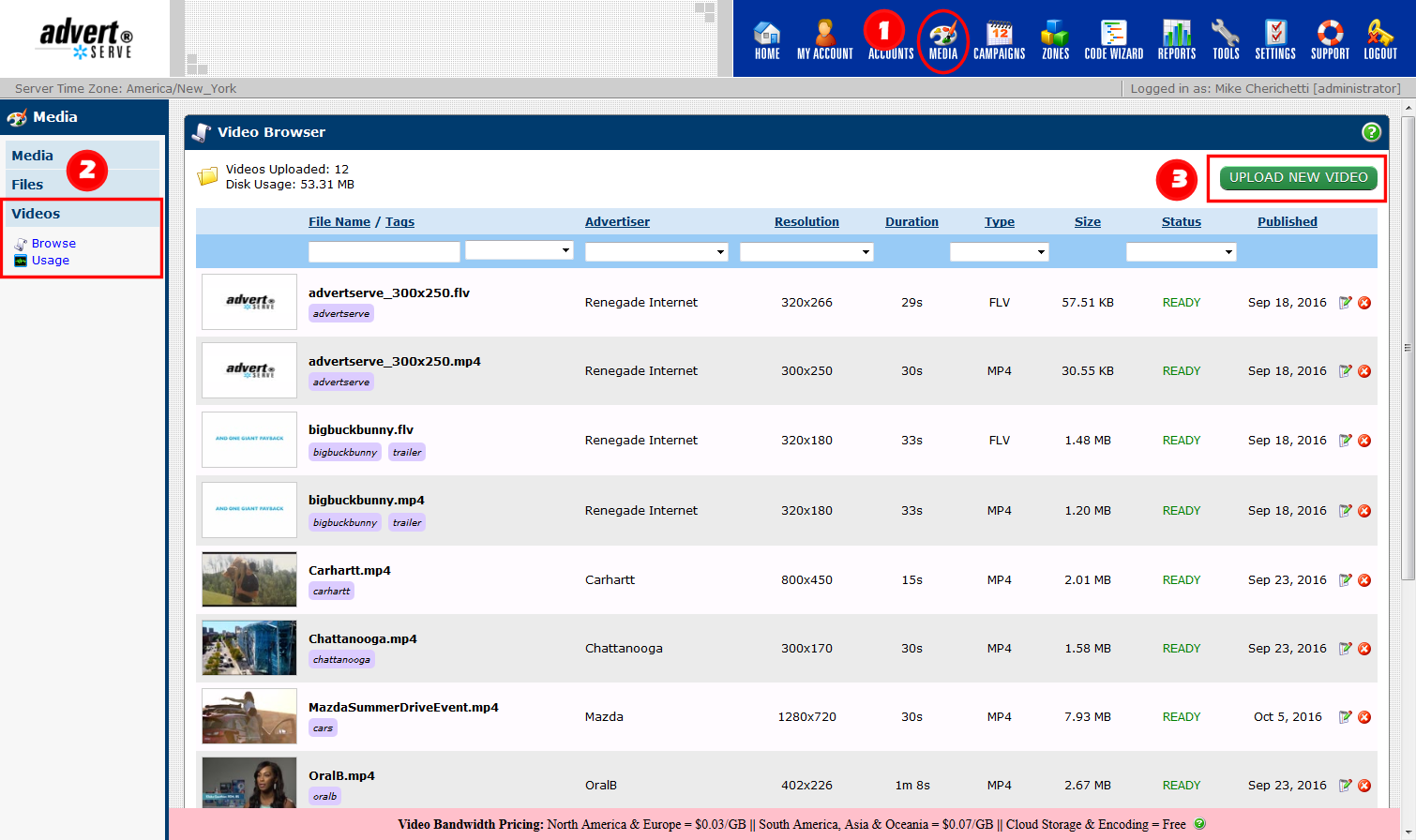 Click on the Media icon in the main tool bar
Next click on Videos in the left navigation menu and then click on Browse
Finally you can click on the Upload New Video button to upload your video
You will then be presented with a screen that looks like the following: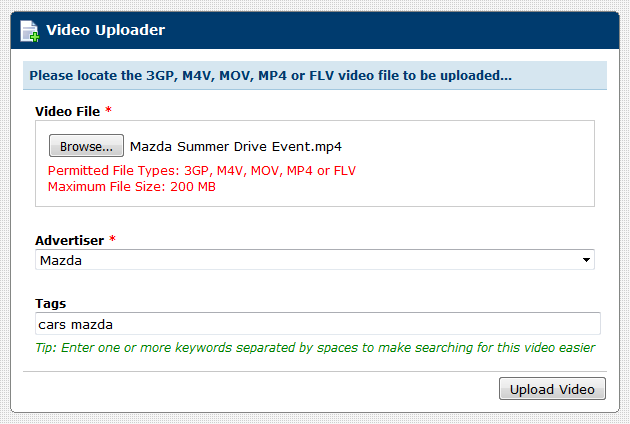 Select the 3GP, F4V, M4V, MOV or MP4 file from your computer
Choose an Advertiser to associate with the video
Optionally enter some keywords to tag the video
Press the Upload Video button
Once you have done that your video will be queued for encoding and when that process completes it will be uploaded to our premium CDN.
You can go back to the Videos > Browse page to keep checking on its status. However, the system will actually e-mail you when it is ready. That e-mail will go to the e-mail address in your account settings, which you can view by clicking on the My Account icon in the main tool bar.
Once your video is ready you can click on the thumbnail image that was captured from it to preview it in your browser.
Monitoring Usage
You can monitor your video bandwidth usage by clicking on Videos > Usage in the left navigation menu:

As you can see it also provides you with an estimated cost, but please note these estimates can be up to 24 hours behind real-time so they may not include charges for the current day.
What's Next?
Now that you have a video uploaded to AdvertServe you might be wondering what you can do with it? You can create a VAST pre-roll or you could create an in-banner video with it. It's also possible to add a video to a pushdown banner, which is great way to enhance performance of masthead placements!