We are pleased to announce that the second part of the AdvertServe Q4/2016 update has been deployed!
The first part of our Q4/2016 update was all about video, but this time around we have some exciting new partnerships and integrations to tell you about!
LiveRamp Partnership
AdvertServe has partnered with LiveRamp to provide advertisers and publishers with access to vast amounts of audience data to enable people-based targeting. What does that mean? Say, for example, that an advertiser has a product that would be of interest to Outdoorsmen. The problem is not all of your site visitors fall into that category. LiveRamp enables you to pick the Outdoorsmen out from the crowd and target relevant campaigns to them. Not only can this help you earn premium CPM rates, but it also optimizes your inventory usage by not wasting impressions on uninterested visitors. Talk about winning!
Forensiq Integration
AdvertServe now supports integration with Forensiq. It is becoming more and more common for agencies, advertisers and ad networks to deploy bot detection in their ad servers. They may end up asking to be compensated for any bot traffic they detect and in the worst cases they may even terminate their relationship with you if they detect a high percentage of bots. While AdvertServe has built-in bot filtering, many users can see a benefit and reduce risk by deploying a more robust solution like Forensiq. Two layers of protection are better than one. Your car has locks and an alarm to protect it. Likely so does your home. Protecting your advertising budget or revenue from malicious bot traffic deserves the same amount of attention.
Video File Formats
We've added support for uploading F4V, MPG and WMV video files and we also automatically convert them to MP4 files.
Video Poster Images
Our video encoder previously captured a poster image by taking a screenshot at the middle of a video. However, that did not always produce the best results. Now we allow you to specify the exact time at which the screenshot will be taken, which saves you the time of manually creating a poster image.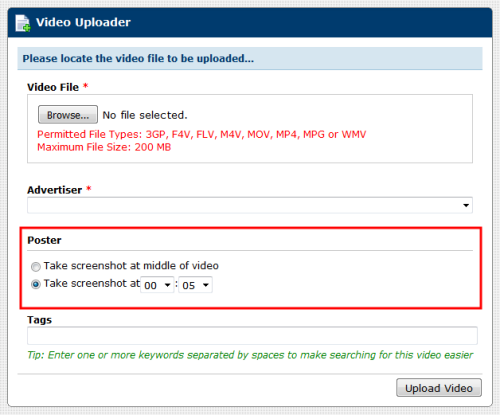 Lightbox with Video
Typically you set lightbox or full page overlay ads to close automatically after 10 or 15 seconds, but that can be a problem with video. You do not want them to close if a video is currently playing. To address this, the lightbox and full page overlay have been improved to disable automatic closing while video playback is in progress.
Competitor Campaigns
When we introduced competitor campaigns we limited it to campaigns belonging to the same advertiser. This was done since competitors could already be defined at the advertiser level. However, time has shown that there can be cases where not all of their campaigns need to compete with each other. Taking this into consideration, we have removed the same-advertiser restriction so you can now make campaigns that belong to different advertisers compete with each other.
Proxy Blocking
Have you ever run a geo-targeted campaign where an advertiser was using DCM, DFA or DFP and they reported you showed some impressions outside of the targeted geographic region? This phenomenon is the result of various DoubleClick products (excluding DART enterprise) using the request IP address to perform geo-location, which does not correctly detect the true location of some users who use transparent proxy servers. Rather it detects the location of the proxy server itself. To address this we have added a new Network Targeting option that lets you exclude a campaign from showing to such users when we detect their true location does not match the location of the proxy server they are using and would result in a reporting discrepancy.

Referrer Targeting
Many users love the ability to target campaigns to specific pages. So much, in fact, that we have increased the size limit on the list of URLs from 64 KB to 256 KB. This makes it possible to enter approximately 10,000 URL targets or restrictions depending on their average length. That's a lot!
Copying Zones
When copying a zone, its campaign assignments are now copied into the new zone provided that you do not change its type or size.
Refreshing Reports
Need to refresh a report? Just click on the new Refresh Report shortcut at the top right of the page.
Questions?
We'd love to hear from you. Seriously, don't hesitate to contact support if you have questions about any of the new features and improvements.